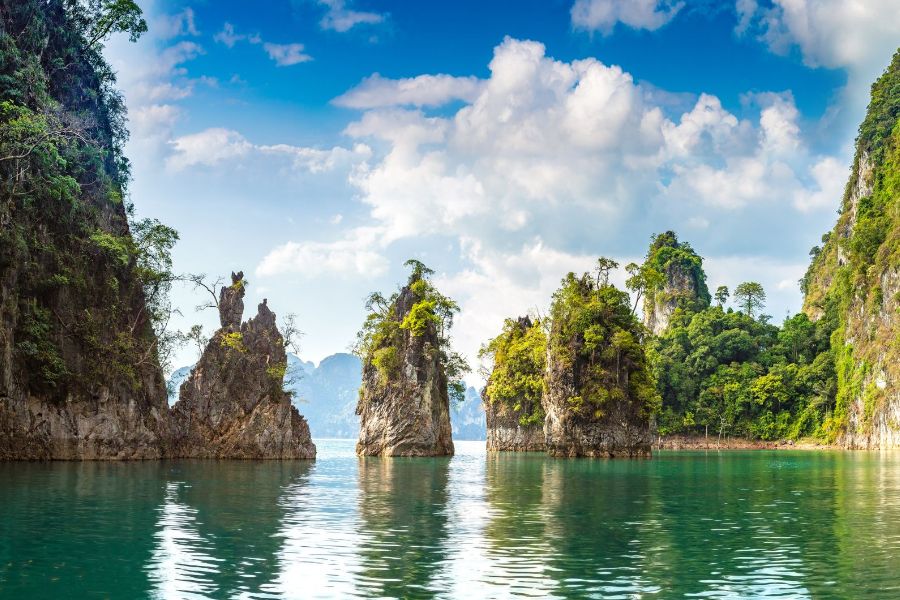 DURATION
3 days / 2 nights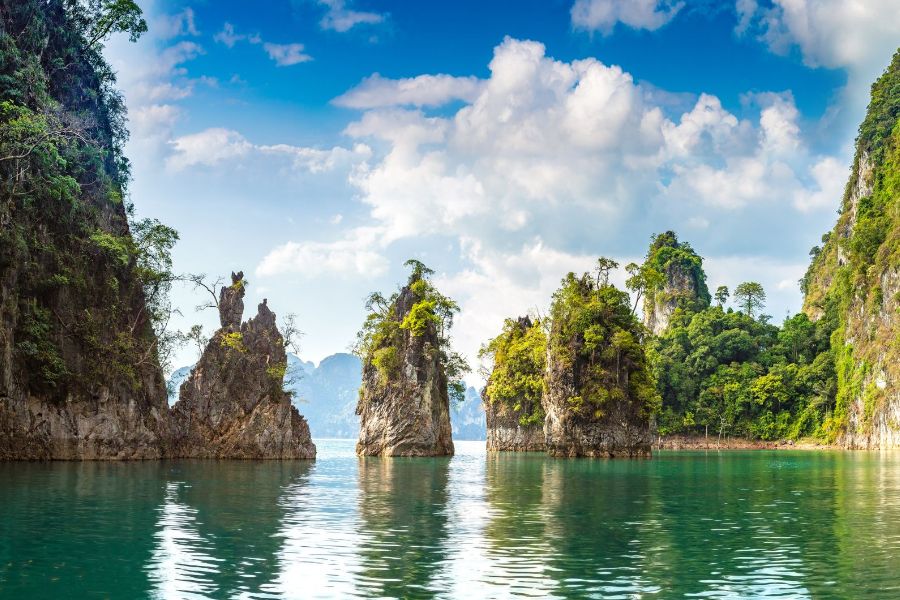 Fun and adventure in the jungle of Khao Sok National Park

You will stay overnight in a treehouse and on a rafthouse on Cheow Larn Lake

Go tubing, night safari, swimming and canoeing
Khao Sok is the perfect setting for a few unforgettable days in Thailand's green heartland. Here you can sail down the river on a 'tube', see monkeys at a local temple, sleep at a rafthouse on the lake, swim, canoe, go on a night safari, explore the area by long-tail boat, as well as stay in a treehouse in the jungle.
Khao Sok national park is home to one of the world's oldest evergreen rainforests. The jagged heart of one of Thailand's most beautiful nature reserves is formed by the huge Cheow Larn Lake (also known as Khao Sok Lake). This is surrounded by green jungle, caves, limestone cliffs and waterfalls. Wild elephants, gibbons, hornbills, monitor lizards, cobras, bears and one even suspects tigers live here.
Go tubing on the river and float down the river on a rubber tyre while enjoying the green surroundings. In the evening, you can go on a night safari with a guide who will point out unusual insects, mammals and tropical plants. You will sleep in unique locations: in your own treehouse and on a rafthouse on the lake.
Expand all
---
In the morning, you will travel to Khao Sok National Park. We can arrange this for you, but this transfer is not included in this tour. The programme starts with lunch.

After lunch, you will go tubing on the Klong Sok River. Tubing is riding along on an air-filled inner tube on the flow of the river. Especially during monsoon time, tubing on the then fast-flowing Klong Sok River is a real sensation! You can also choose to go canoeing on the river instead of tubing.

After this, you'll be taken to a local temple, where you're also likely to see monkeys. You'll return to your accommodation in the middle of the jungle for dinner and your overnight stay in a treehouse!
INCLUSIEF:
Excursion: Tubing on the Klong Sok river & visit to local temple
Accommodation:
Khao Sok Paradise Resort ****
(Tree house)
---
Day 2
Cheow Larn Lake in Khao Sok National Park
After breakfast, you will leave your accommodation and be taken to Cheow Larn Lake. This lake is a stunning place, surrounded by towering rocks and peppered with islets. The huge lake was created after the construction of a dam. This flooded parts of the jungle. The result is a beautiful landscape in which rock formations rise steeply. It is the habitat of many twittering birds and screaming macaques.

You will stay in a floating accommodation of simple but unusual rafthouses in the middle of the lake. The electrical facilities are not like those you are used to at home, the power can sometimes go out and the internet is sometimes slow or momentarily absent. On the other hand, the surroundings are truly breathtaking. The rest of the day is at leisure. You can go swimming, canoeing or just relax on the veranda of your rafthouse.

We also arrange for you to pass the famous and photogenic 'Three Brothers Rocks' by boat across the lake. You will also visit a cave or waterfall in good weather.
INCLUSIEF:
Transfer: Transfer to Cheow Lan Meer
Accommodation:
(Rafthouse)
Meals: Ontbijt, lunch, diner
---
Day 3
Khao Sok - Next destination
What a special place to wake up... Enjoy the dawn, the immense peace and overwhelming nature. After breakfast, you still have time to be on the lake or do one of the excursions.

After lunch at the rafthouse, you will be transferred back to the Khao Sok Paradise Resort. From here you can continue on to your next destination (not included).
INCLUSIEF:
Transfer: Transfer to Khao Sok Paradise Resort
---
| Persons | Starting price per adult |
| --- | --- |
| 2 persons | ฿ 8000 |
| 3 persons | ฿ 8000 |
| 4 persons | ฿ 8000 |
| 5 persons | ฿ 8000 |
| 6+ persons | ฿ 8000 |
Prices available until 12-09-2024.
Prices mentioned valid for departure between 12-09-2023 and 31-10-2023.
Price for children (between 3 and 11 years old) and babies (younger than 3) can vary. Calculate your price below.
Calculate my price
Adults (12 years and older)?
Inclusive
Breakfast on day 2 and 3

Lunch on day 1, 2 and 3

Dinner on day 1 and 2

Mentioned excursions

National park entrance fees
Exclusive
Optional excursions

Optional meals and drinks

Transfers to and from Khao Sok

Tips

Booking costs: €15 per booking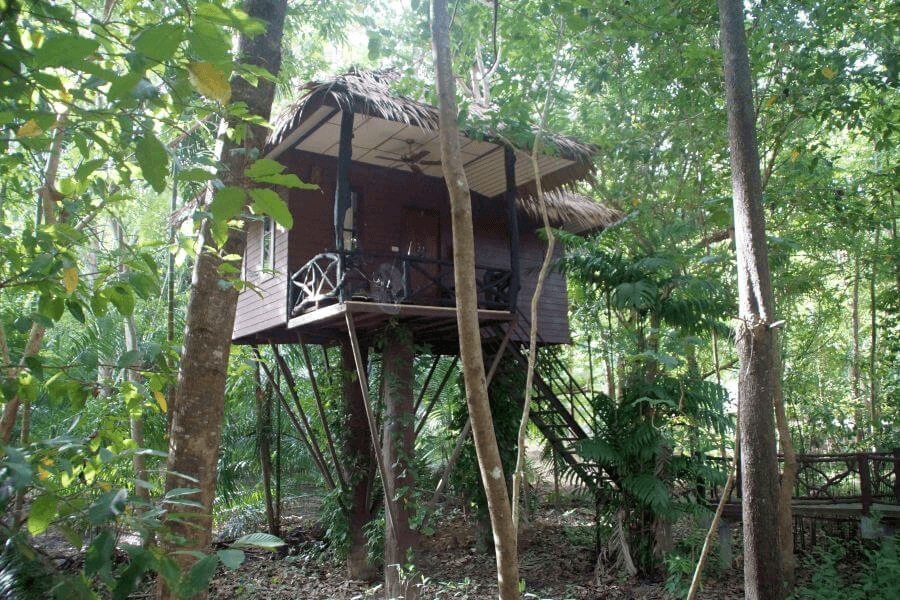 Khao Sok
Khao Sok Paradise Resort ****
Tree house