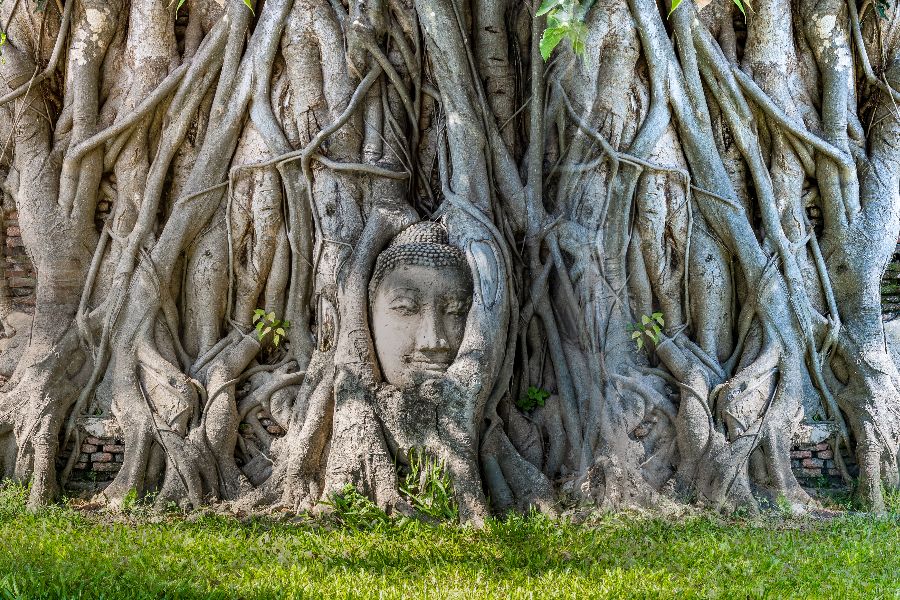 AVAILABILITY
Wednesday - Sunday, 7:00am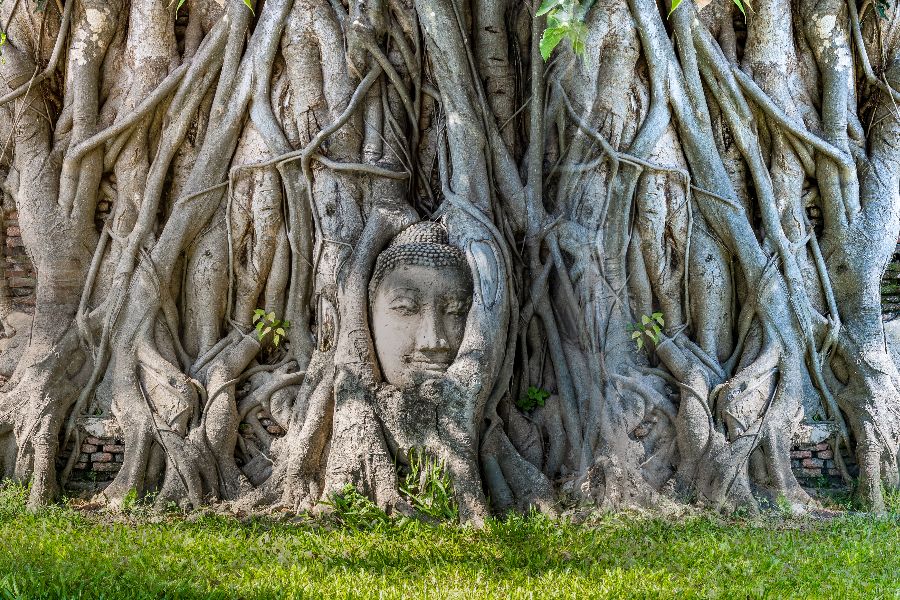 Wat Mahathat Temple, where the head of a Buddha is entwined between the roots of a tree

See the 50-metre-high stupa at The Monastery of the Golden Mount

Visit a nearly 40-metre-long and 8-metre-high reclining Buddha

Includes: a local Thai lunch on the boat back to Bangkok

This tour won a 2023 Viator Experience Award
Ayutthaya and Bang Pa-In tell a lot about Thailand's past. Both places are heart-stopping fun to visit. Not without reason was this tour honoured a 2023 Viator Experience Award.
Your journey through Thailand's history begins at your hotel in Bangkok, where you will be picked up and taken to River City. From here you will travel by coach to Ayutthaya, which is about a two-hour drive from the Thai capital. On the way there, you will first stop in Bang Pa-In.
BANG PA-IN
The Bang Pa-In summer palace looks like a large park with ponds and flowers, and with striking classical Thai buildings spaced here and there. A royal residence was built on this site as early as the 16th century, but it took centuries for Bang Pa-In to really take shape. The influential kings Mongkut and Chulalongkorn built the palace into what it is today in the 18th and 19th centuries.
The latter king in particular (the first Thai king to travel to Europe) was very influenced by what he saw there. It explains why Bang Pa-In features mansions, shrines, statues and pavilions reminiscent of Europe, ancient Thailand, as well as China. After this visit, we will continue to Ayutthaya.
AYUTTHAYA
Ayutthaya was a prosperous kingdom of its own for hundreds of years, until the Burmese largely destroyed it in the mid-18th century. Fortunately, the ruins of temples and palaces still show the grandeur of Ayutthaya.
From the wide range of temples in Ayutthaya, on this tour we choose the famous Wat Mahathat Temple, where the head of a Buddha is entwined between the roots of a tree. Also worth seeing is Wat Lokaya Sutha Temple, where a nearly 40-meter-long and 8-meter-high reclining Buddha attracts the most attention. Finally, Wat Na Phra Men, one of the few temples that survived when they were overrun by the Burmese. It is here in the chapel that we find the more than 1,500-year-old image of the green Buddha Phra Khanthararaj.
BOAT
Then it's time to embark the boat. We will cruise along the Chao Phraya River back to Bangkok. A Thai buffet lunch will be served on board.
| Persons | Starting price per adult |
| --- | --- |
| 2 persons | ฿ 3000 |
| 3 persons | ฿ 3000 |
| 4 persons | ฿ 3000 |
| 5 persons | ฿ 3000 |
| 6+ persons | ฿ 3000 |
Prices available until 12-09-2024.
Prices mentioned valid for departure between 13-09-2023 and 12-09-2024.
Price for children (between 3 and 11 years old) and babies (younger than 3) can vary. Calculate your price below.
Calculate my price
Adults (12 years and older)?
Inclusive
Pick up and drop off from hotel in central Bangkok

Entrance fees

Lunch

English speaking guide
Exclusive