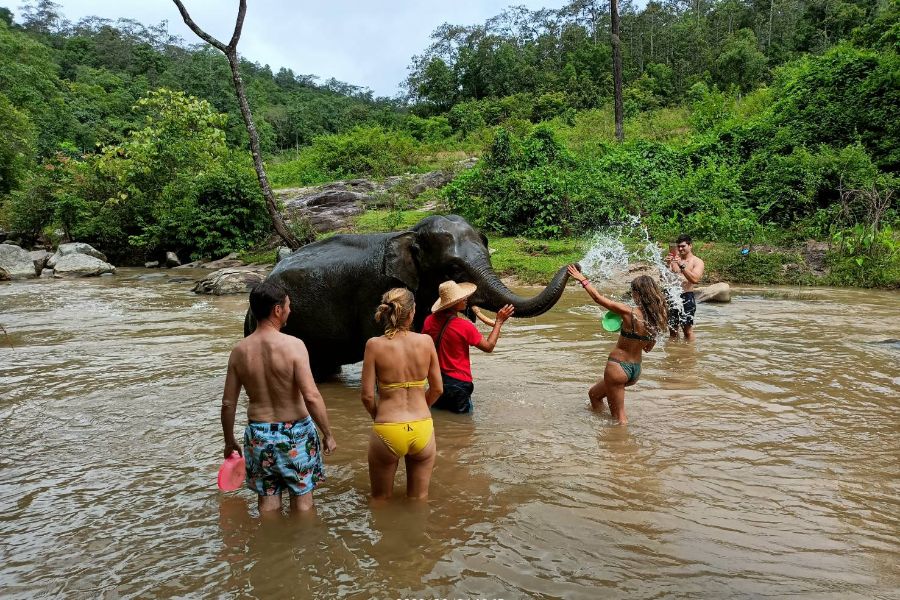 DURATION
2 days / 1 nights
PICKUP LOCATION
Chiang Mai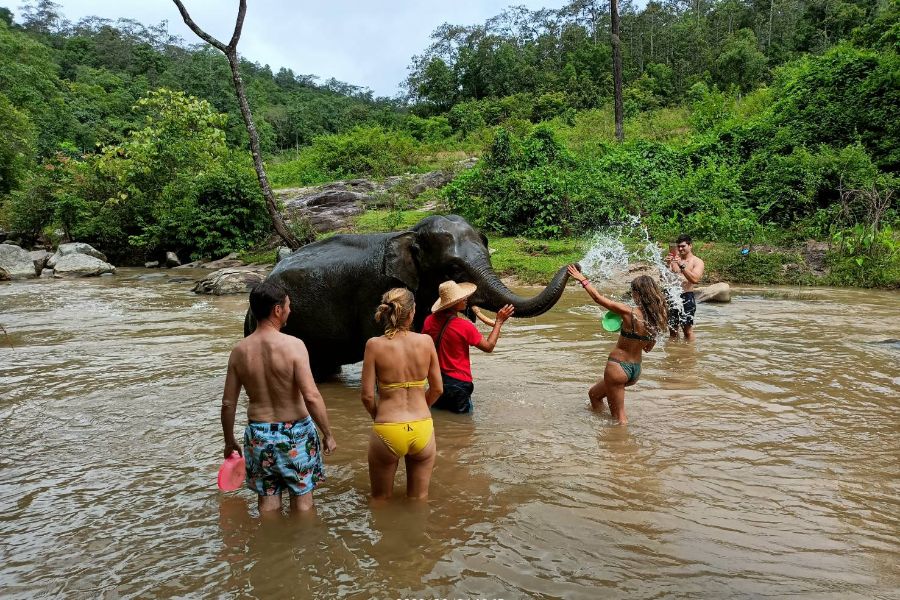 Experience beautiful northern Thailand

Take a river bath with the elephants

Bamboo rafting on the river

Trekking through the jungle

Swimming at a waterfall

Getting to know the locals
The very best way to learn more about how the locals live in northern Thailand is to spend two days with them and stay overnight.
On this 2-day authentic trek in Chiang Mai, we make the most of this solid expedition, as the whole programme lasts for 2 full days. You go further off the beaten track, meet fewer people along the way and thus experience the real north of Thailand even better than in other tours.
Their life here in northern Thailand is simple and heavily based on traditions. It's not only interesting to be part of it for a while, but also fun, because you'll get to do lots of awesome things here. Honestly, how many times have you fed an elephant or sat on a bamboo raft?
Besides a jungle trek through the Mae Jem region (where you learn how to survive in the jungle), a few visits to minority villages and a trek to where your bamboo rafting starts, you will also go to the 150-metre-high Mae Pan waterfall (and yes, you can swim there). But for many, the highlight is helping feed the elephants and bathing with these extraordinary animals.
What to bring. A small backpack, tissues/toilet paper, some money for drinks, sturdy (hiking) shoes, swimwear, a towel, insect repellent, sunscreen, a rain jacket (in the rainy season), dry clothes, toothbrush, warm clothes (for evenings and nights).
On the evening before this tour, the guide will drop by your hotel in Chiang Mai around 19.00 - 19.30 to give more information about the tour.
This trek is done in a group of maximum 12 people.
Expand all
---
Day 1
Chiang Mai - Jungle camp
Are you ready for your spirited jungle experience and getting to know the traditional minorities living here?

Good, because our driver will pick you up early from your hotel in Chiang Mai by pick-up truck.

Upon arrival, you'll help feed elephants and get to bathe with them in the river.

After this, it's time to put on your hiking boots (or other sturdy shoes). Today's jungle trekking is 4 to 5 hours. Among other things, you will learn how to survive in the jungle. The guide will also show you the most beautiful spots (such as the Pa Pong Piang rice fields) and point out the peculiarities of northern Thailand.

The guide will also teach you how to use natural materials to make traps to catch animals. After dinner, you will set the traps with the guide on a night trek.

Lunch and dinner will be cooked on site with the guide. You will spend the night in a bamboo hut with a local minority.
---
Day 2
Jungle camp - Chiang Mai
In the early morning, you will wake up to the sounds of the jungle. There will be breakfast and coffee or tea.

This day starts with a 2-3 hour trekking. After this, you and the guide make lunch again.

In the afternoon, you will go to the spot by the river where the bamboo rafting begins. The raft down the river takes about 1 to 2 hours. You will also go to the 150-metre-high Mae Pan waterfall. You can swim here.

Afterwards, you will be taken back to Chiang Mai. The route goes partly through Doi Ithanon National Park. You arrive in Chiang Mai in the early evening.
---
| Persons | Starting price per adult |
| --- | --- |
| 2 persons | ฿ 5350 |
| 3 persons | ฿ 5350 |
| 4 persons | ฿ 5350 |
| 5 persons | ฿ 5350 |
| 6+ persons | ฿ 5350 |
Prices available until 12-09-2024.
Prices mentioned valid for departure between 12-09-2023 and 12-09-2024.
Price for children (between 3 and 11 years old) and babies (younger than 3) can vary. Calculate your price below.
Calculate my price
Adults (12 years and older)?
Inclusive
Breakfast on day 2

Lunch on day 1 and 2

Dinner on day 1

Entrance fees

English speaking guide
Exclusive
Optional excursions

Not mentioned meals and drinks

Tip