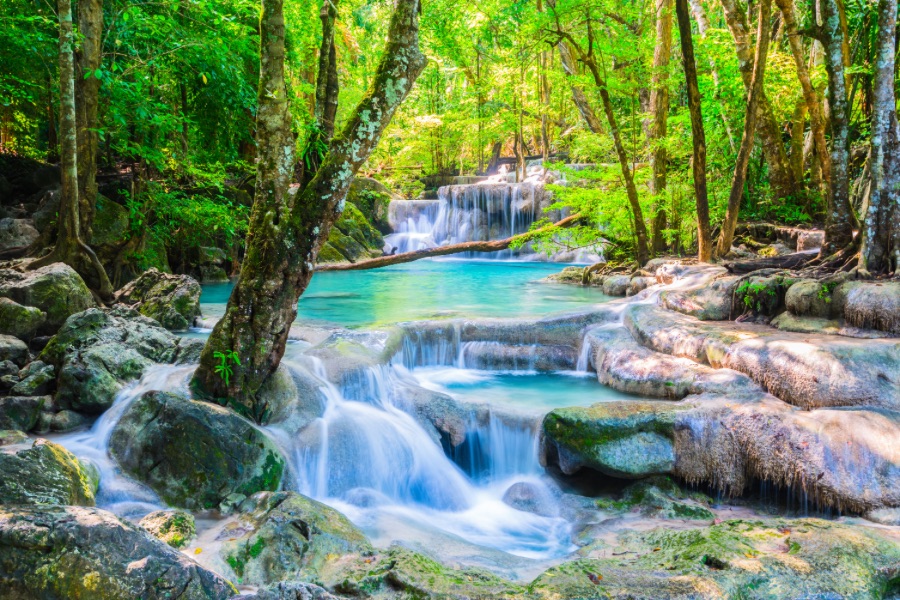 AVAILABILITY
Daily 7:00 a.m.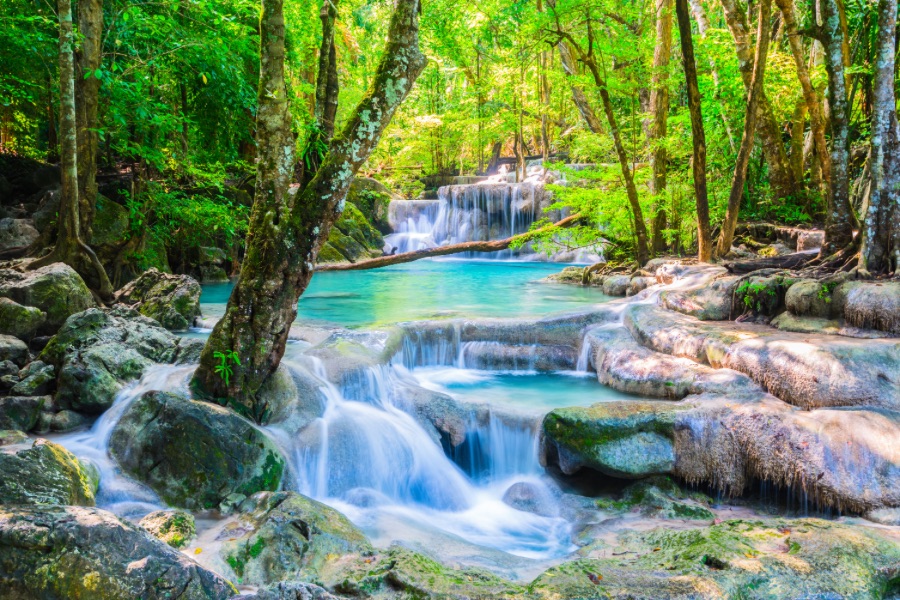 Visit the most beautiful waterfalls of Thailand

Learn more about the history of Kanchanaburi

Walk on the famous Bridge over the River Kwai
This varied day tour takes you to Kanchanaburi, which is 140 kilometres from Bangkok. It doesn't take long for the you on this tour to notice how Thailand changes as soon as you leave the capital. Kanchanaburi is considerably smaller and more rural. Here you can see the consequences of the Japanese occupation in the last century, for example at the famous Bridge over the River Kwai. But you also go to the popular Erawan Waterfalls.
JEATH WAR MUSEUM
In Thailand during World War II, the Japanese wanted to build a railroad at record speed to supply their troops in Burma. The working conditions for civilian workers, prisoners of war and forced laborers were inhumane. Some 100,000 workers and about 15,000 prisoners of war lost their lives due to disease, malnutrition and exhaustion. The Burma Railway is therefore also called the Death Railway.
Eyewitness accounts and more background on the construction of this infamous railroad you will find out at the JEATH War Museum.
THE FAMOUS BRIDGE, WAR CEMETERY
'The Bridge on the River Kwai' in Kanchanaburi is (thanks to the film of the same name) the most famous part of that death railway. As well as the bridge, you'll visit the small but insightful museum and the main war cemetery. This commemorates the prisoners of war who died on the job.
ERAWAN WATERFALLS
After lunch, head to one of Thailand's most beautiful waterfalls: the Erawan Waterfalls. Here the water falls 1,500 meters down through 7 plateaus. The further up you walk, the more difficult it becomes. At least try to reach plateau 5, which we personally like best. Don't forget your swimwear, as it is great to cool off in the clear water after the climb.
You will be picked up from your hotel in Bangkok for this tour and dropped off afterwards.
| Persons | Starting price per adult |
| --- | --- |
| 2 persons | ฿ 5350 |
| 3 persons | ฿ 4000 |
| 4 persons | ฿ 3350 |
| 5 persons | ฿ 2950 |
| 6+ persons | ฿ 2700 |
Prices available until 31-12-2023.
Prices mentioned valid for departure between 12-09-2023 and 12-09-2023.
Price for children (between 3 and 11 years old) and babies (younger than 3) can vary. Calculate your price below.
Calculate my price
Adults (12 years and older)?
Inclusive
Private transport

English speaking guide

Lunch and snacks

Entrance fees
Exclusive