DURATION
3 days / 2 nights
Visit Elephants World: a sanctuary for elephants. Here you can take a nice bath with them

Experience Thailand's most famous floating market Damnoen Saduak

Stay in the unique The River Kwai Jungle Rafts, a floatel made of rafts with bamboo houses on it

The Death Railway. Learn more about this infamous railroad

Visit the temples and ruins of the ancient kingdom of Ayutthaya
Thailand is largely made up of nature. This is evident in Kanchanaburi, where the vast rainforest is a dominant feature. This dense forestation is interspersed with rivers and has traditionally been full of wildlife, such as elephants.
You'll spend a full day with these giants at Elephants World Kanchanaburi, a sanctuary for the beloved animals. Here you will help prepare food for them, feed them and assist in giving them a bath.
There is time for more. You will learn about the dark times when the Japanese tried to build a railway here using forced labourers and prisoners of war during World War II. But you'll also visit Thailand's most famous floating market Damnoen Saduak and tour temples in the former kingdom of Ayutthaya.
On top of that, you'll stay two nights in a basic but heart-pounding floating hotel on the River Kwai.
Expand all
---
Day 1
Bangkok - Kanchanaburi
Early in the morning you will depart for the Damnoen Saduak floating market. Once you are in the close vicinity, you will exchange the minivan for a long-tail boat. This boat will take you through a beautiful green oasis to the floating market, a world apart. The Thai sail in their boats with all kinds of merchandise. There are even some on which noodles are prepared. These so-called boat noodles are a true delicacy. Also try a sweet yellow mango, they really are irresistible. Walk around while everyone around you busily negotiates the right price. It is possible to take an extra boat ride along the canals of the market itself, so you can see the boats up close.

You will then proceed to Kanchanaburi, where you will have lunch at a local restaurant. In Thailand during World War II, the Japanese wanted to build a railroad at record speed to supply their troops in Burma. The working conditions for civilian workers, prisoners of war and forced laborers were inhumane. Some 100,000 workers and about 15,000 prisoners of war lost their lives due to disease, malnutrition and exhaustion. The Burma Railway is therefore also called the Death Railway. The bridge made famous by the movie The Bridge on the River Kwai (which you visit on day 3) still exists and is a reminder of dark times. During a visit to the Hell Fire Pass Memorial, you will learn more about the construction of this infamous railroad.

In the afternoon you travel by long-tail boat to a unique accommodation: the River Kwai Jungle Rafts. This floating hotel, or floatel, is made of rafts with bamboo houses on it. There is no electricity, so the resort is attractively illuminated at night with oil lamps. Take a dip in the river or simply lie in your hammock and enjoy the beautiful surroundings and the sound of cheerfully chattering birds. In the evening there is an optional singing and dancing performance of the Mon tribe. This tribe lives in the village next to the Jungle Rafts. Then you slowly fall asleep to the rhythm of the swell of the water.
INCLUSIEF:
Accommodation:
River Kwai Jungle Rafts ***
---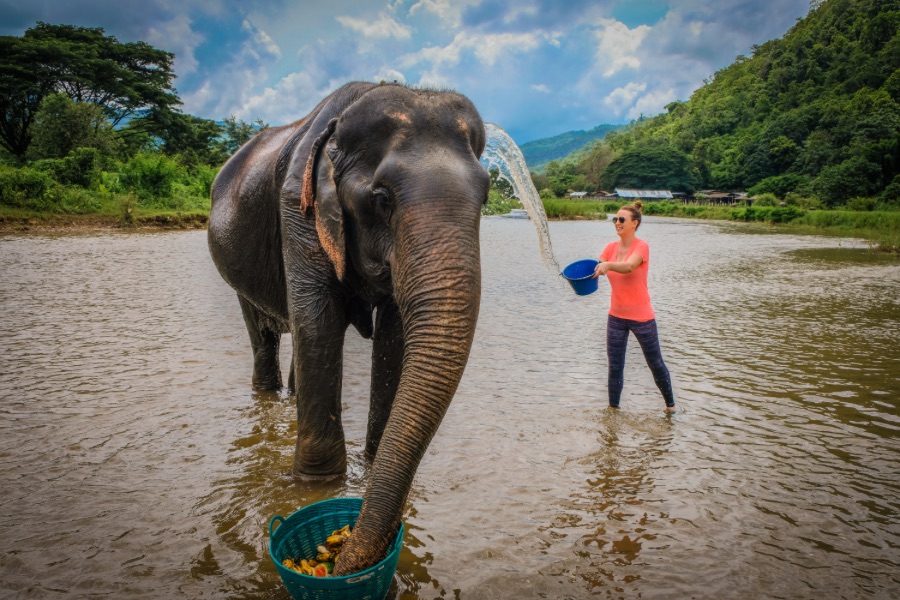 Today we get up early, because in the early morning the elephants are treated to a lovely bath in the river, and you don't want to miss it. It is also possible to feed them yourself with pineapple and watermelon peels. This might make you hungry, so don't forget breakfast before we see more elephants.

Today you will visit Elephants World: a sanctuary for elephants. Established in 2008, the park is set in beautiful green surroundings. It is home to old, sick and disabled elephants. Now everything revolves around them and they can finally enjoy their well-earned old age.

First, you can meet the elephants and get to give them something tasty, like bananas or bamboo. Elephants eat quite a lot. You will notice today that it seems like they never have enough. After this introduction, the animals get their morning bath.

Together with the caretakers, you clean vegetables and fruits. Sticky rice is also cooked for the older elephants. After this, you can enjoy a Thai lunch by yourself.

After lunch, the programme still revolves around food. It is very important to ensure that there is enough food for the elephants in the future too. Therefore, new banana trees, sugar cane and grass are planted every day. After this job is done, it is time to feed the sticky rice to the older elephants.

Then you take the elephants to the river. Here you can take a nice bath with the elephants. But you have to make yourself useful by giving the elephants a good scrub as well. After feeding the elephants with the previously prepared fruit and vegetables, it is unfortunately time to say goodbye to them.
INCLUSIEF:
Meals: Ontbijt, lunch, diner
---
Day 3
Kanchanaburi - Bangkok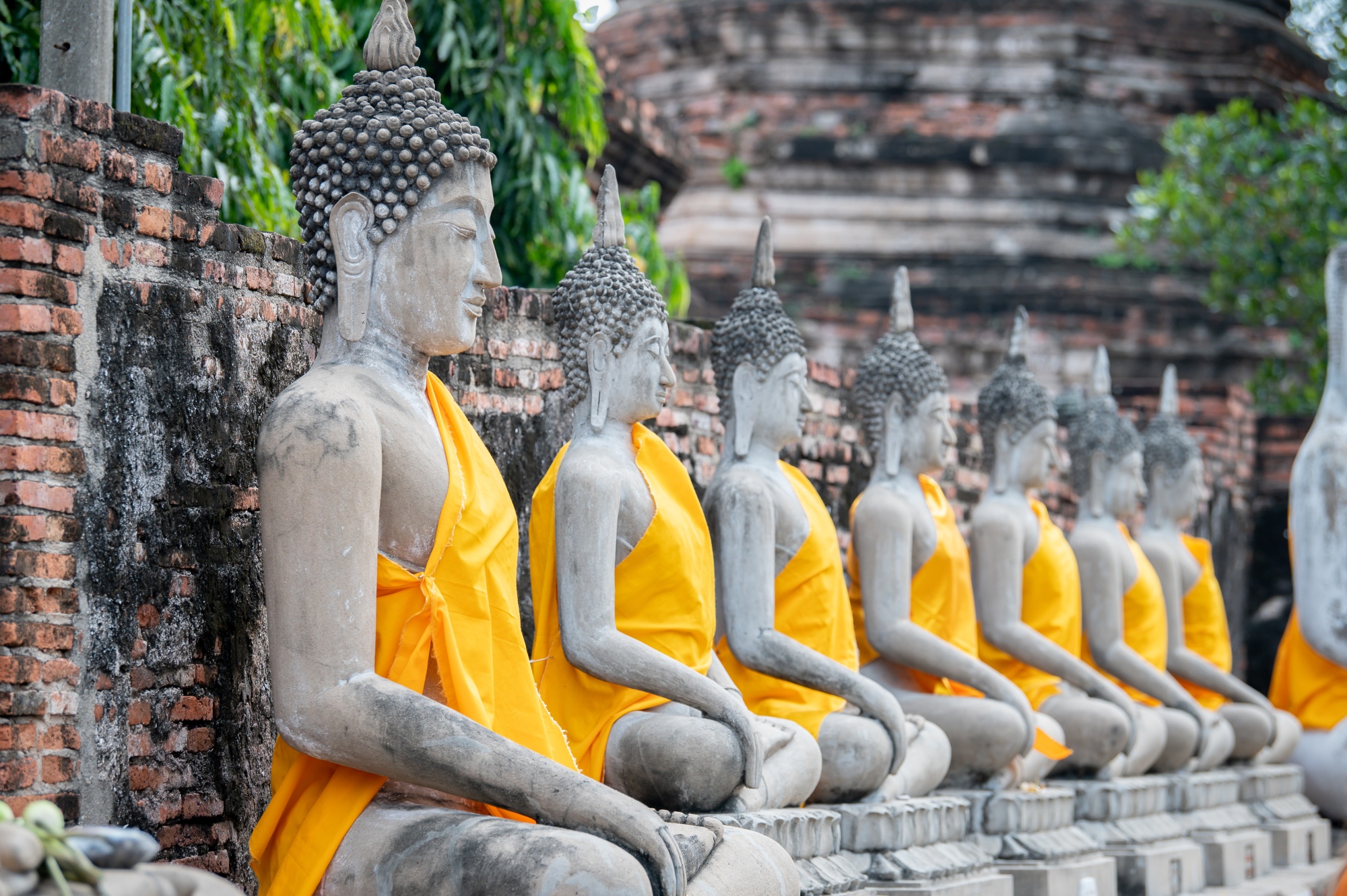 Before you bid farewell to Kanchanaburi, we take a moment to remember the Death Railway and the victims of World War II. You visit The Bridge on the River Kwai (over which trains still run) and the Don-Rak honor cemetery where nearly 7,000 (mostly Australian, British, Dutch and Indian) prisoners of war are buried.

On the way back, we absolutely must not miss Ayutthaya. Ayutthaya was a prosperous kingdom for hundreds of years until the Burmese largely destroyed it in the mid-18th century. Fortunately, the ruins of temples and palaces still show the grandeur of Ayutthaya.

After lunch we tour some of the temples and ruins. At the end of the day, you will be taken back to Bangkok or dropped off at your hotel in Ayutthaya.
INCLUSIEF:
---
| Persons | Starting price per adult |
| --- | --- |
| 2 persons | ฿ 22250 |
| 3 persons | ฿ 17800 |
| 4 persons | ฿ 14700 |
| 5 persons | ฿ 13600 |
| 6+ persons | ฿ 12200 |
Prices available until 12-09-2024.
Prices mentioned valid for departure between 12-09-2023 and 30-10-2023.
Price for children (between 3 and 11 years old) and babies (younger than 3) can vary. Calculate your price below.
Calculate my price
Adults (12 years and older)?
Inclusive
All transfers by minibus

Breakfast on days 2 and 3

Lunch on days 1, 2 and 3

Dinner on days 1 and 2

Listed excursions

Entrance fees

English speaking guide
Exclusive
Optional excursions

Not mentioned meals and drinks

Tip

Booking costs: €15 per booking
Kanchanaburi
River Kwai Jungle Rafts ***